A collage of Herc during his tour in the army.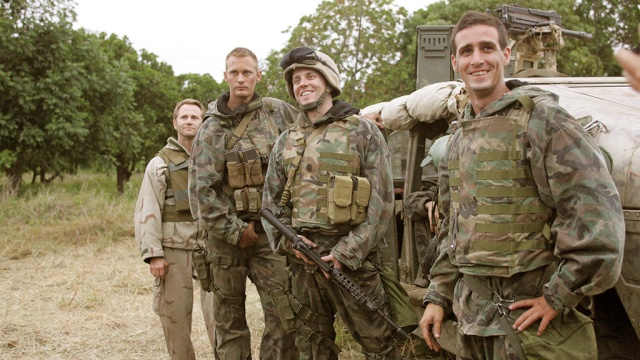 Herc (Right) with Warren Clyde (Second to the right) and the rest of their merc squad.
Neutral Good
Herc's motives lie mostly around money, but he isn't afraid to turn down an offer that would break certain friendships, or go against what crude motives he has.
Evil<████████ | ████████>Good
Sanity
Fucking Batty<███████|██████|██████>Crystal Clear​
"Still got a few bolts left upstairs."
A Quick Consensus
An ex-soldier turned mercenary, he came to the Zone looking to find riches. He kills for money and has no technical 'side' to most situations. He may or may not pretend to share motives with the highest bidder until his contract is finished, but that's often the extent of it. He cares for very few people.
General InformationName:
Alexander Madessi
Aliases:
'Hercules'
Faction:
Merc
Nationality:
Italian-American
Rank:
Veteran
Age:
36
Place of Birth
New York City, USA
Status:
Alive
Known Languages:
English, Arabic, Ukrainian.
Mental Illnesses:
PTSD
Physical Disabilities
: N/A
Sexual Orientation:
Heterosexual
Occupation:
Private Contractor with a few side-jobs thrown-in.
Former Occupations:
Soldier, Professor.
Motto:
"..."
Physical Traits
Weight:
240 lbs
Height:
5'11'''
Hair Color
Brown
Eye Color
Brown
Demeanor:
Stoic, Withdrawn, Occasionally Quirky
Relationships
Key: Love/Romantic Interest / Bretheren / Friend / Acquaintance / Neutral / Dislike / Hate /
Dusty: Offered me a job. A potential ally.
Sophia: The only Stalker that Herc actually cares some degree about.
Warren Clyde: Herc's go-to-guy. His best friend.
Nahuel: Dead, zero fucks given. Saw him a few times, thought he was annoying.
Talia Timbers: A kid who was pretty fucked up. Rip
Vulture: Didn't know him very well. Spoke once or twice.
Zero: Offers work from time to time.
Andy: Nobody has any idea, it's beautiful.
Ivan: Same as Andy. It makes me laugh every time I think about it.
/Pol/lock: Nobody takes him seriously, but he's right about most of his psycho-babble-bullshit.